Description
Bosch MUM4405 Compact Tilt-Head Stand Mixer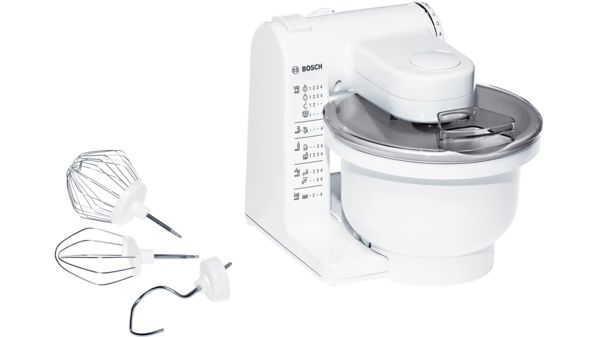 Lightweight 4-quart plastic BPA-free bowl with easy-grip handle; bowl is dishwasher safe. Tilt-head design allows for the easy addition of ingredient.
Unique planetary gearing creates whipping action up to any whipping task. Whip as little as one egg white, creams any light batters.
400 watt motor provides enough power for all your kitchen tasks, even kneading up to 6 loaves of whole grain bread dough or mixing dozens of cookies in a single batch.
A variety of optional attachments and accessories will to turn your mixer into a kitchen machine. Grind meat, juice citrus, blend smoothies, and more.
Includes 4 Qt. bowl, pouring shield, dough hook, beating whisk, and stirring whisk.
400 watt motor is quiet yet the most powerful in its class.
Sturdy 4 quart mixing bowl kneads up to six pounds of dough.
Unique planetary gearing assures thorough mixing.
Four electronically controlled speeds plus locking park position.
Ingenious design of the multi-function arm locks into three positions to accommodate blender, food processor, continuous shredder and many other essential accessories.
Be sure to also check these other great Bosch products here!